---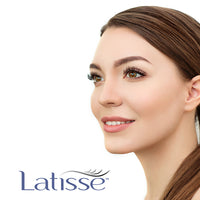 Sale
**This offer is for new customers only. Valid for those who have not previously purchased this product from Slate Medspa. Product must be picked up at one of our locations. LIMIT ONE PER CUSTOMER.
What You'll Get

LATISSE®

 

(bimatoprost ophthalmic solution) 0.03% (5ml)
Not enough lashes? LATISSE® grows lashes longer, fuller & darker!
LATISSE® is an FDA-approved treatment to grow eyelashes for people with inadequate or not enough lashes.

The natural growth cycle of the eyelashes is about five weeks, Latisse is applied each night for the duration of that cycle. Research suggests that Latisse facilitates the growth of eyelashes during the eyelash-growth phase. Lashes can grow longer, darker, and thicker because Latisse can prolong the growth phase.
Important Safety Information
Do not use LATISSE® if you are allergic to one of its ingredients. If you use/used prescription products for eye pressure problems, use LATISSE® under doctor care. May cause brown darkening of the colored part of the eye which is likely permanent. LATISSE® may cause eyelid skin darkening which may be reversible. Only apply at base of upper lashes. DO NOT APPLY to lower lid. Hair may grow outside the treatment area. If you have eye problems/surgery, consult your doctor. Common side effects include itchy and red eyes. If discontinued, lashes gradually return to previous appearance.
These are not all the possible side effects of LATISSE®. For more information, please talk to your doctor.
Call us to schedule your appointment 877.588.4646

About Slate Medspa | Paramus, NJ | Wayne, NJ

Slate Medspa specializes in non-invasive, FDA approved body contouring and skin rejuvenation treatments. We offer the latest technology in non-surgical aesthetic enhancements. Our locations provide a zen like setting with each room equipped with an LED Television and access to WiFi to help you look great and feel great. State-of-the-art technology merges with luxury to offer a unique and unforgettable experience.

We offer many bodysculpting solutions, including CoolSculpting®. Unlike diets and exercise, this fat reduction procedure destroys your fat cells, resulting in permanent fat cell removal. It's the ideal method for reducing fat in stubborn areas. Add in Tempsure® Firm for Skin Tightening and EmTone® for Cellulite Reduction, and you've got the most comprehensive non-invasive bodysculpting program available.

Slate can also help you fight signs of aging and achieve confidence in your skin. BOTOX injections target wrinkles and frown lines and JUVÉDERM, RESTYLANE, BELOTERO, RAVENESSE, SCULPTRA & RADIESSE add volume to the skin in order to help you regain that youthful appearance and state of mind.

Rounding out our list of aesthetic services, we offer a myriad of Face & Beauty Services, including Laser Hair Removal, VIVACE® Fractional RF, Photofacial, HydraFacial®, Laser Resurfacing Facial, Vi Peel®, Microneedling, Scar & Acne Treatment, Infrared Sauna Pod Therapy, Plasma Facials & Hair Thinning Treatment.

Our mission at Slate Medspa is to provide the latest, most effective non-invasive procedures available, so you don't have to worry about complications or downtime.

- Diana Portilla, M.D.

Company Website