---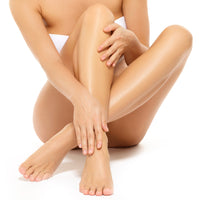 Sale
**This offer is for new laser hair removal customers only. LIMIT ONE TREATMENT PURCHASE AT PROMO PRICE PER CUSTOMER. 
SMALL AREAS: Underarms | Basic Bikini | Upper + Lower Lip | Chin | Front of Neck | Back of Neck | Happy Trail | Areola | Ears | Nose | Hands + Fingers | Feet + Toes
MEDIUM AREAS: Extended Bikini | Full Face | Full Neck | Upper Arms | Lower Arms | Shoulders | Ladies Abdomen | Ladies Chest | Ladies Upper Back | Ladies Lower Back | Glutes
LARGE AREAS: Brazilian Bikini | Upper Legs | Lower Legs | Full Arms | Ladies Full Back | Men's Chest | Men's Abdomen | Men's Upper Back | Men's Lower Back
X-LARGE AREAS: Full Legs | Men's Full Back
We use Alexandrite and Nd:YAG Lasers, the gold standard in dual wavelength laser technology and safe for All Skin Types. Don't settle for inferior equipment. We also use a patented Cooling Device which prepares the skin for treatment by spraying the upper layer with a cooling burst of cryogen milliseconds before the laser pulse. This ensures that our treatments are as comfortable as they are effective.
 Choose from Four Options:
One laser hair-removal treatment on a small area - 

$̶3̶6̶

($90 total value)
One laser hair-removal treatment on a medium area - 

$̶5̶6̶

($140 total value)
One laser hair-removal treatment on a large area -

$̶9̶2̶

($230 total value)

One laser hair-removal treatment on a x-large area - $152 ($380 total value)
The average person spends over $33,000 and 1,500 hours waxing and shaving during a lifetime. Unlike shaving, tweezing, or waxing, Laser Hair Removal is a real solution, not a quick fix. Once the follicle is successfully destroyed the hair doesn't grow back, so you can experience smooth skin without razor bumps, nicks, ingrown hair or stubble. Our systems can effectively treat all skin types and most hair colors with the exception of grey, light blonde and red hair.
Treatments on small areas take 10–15 minutes, medium areas take 15–25 minutes, large areas 25-35 minutes, and x-large areas take 35–60 minutes.
During a pre-treatment consultation, we will discuss your goals and treatment options. If it is determined that the treatment isn't appropriate for you, your purchase may be refunded.
Call us to schedule your appointment 877.588.4646
The Fine Print
Promotional value expires 120 days after purchase. Amount paid never expires. No cash value or cash back. Appointment required. Must use treatments on number of areas specified. Consultation required; non-candidates and other refund requests will be honored before service provided. Limit 1 per person. New customers only. Valid for those who have not previously purchased the same treatment from Slate Medspa. Valid only for option purchased. Valid only for selected treatment area* 24-hour cancellation notice required; late cancellations and no-shows will be charged a $50 rebooking fee (fees not to exceed voucher price). There are risks and possible complications for every treatment procedure. Every individual is unique. Results may vary. Although the vast majority of patients achieve desired results, there is no guarantee of results for any treatment. Offer is not eligible for other promo codes or other discounts.
*Small area choices include underarms, bikini line, chin, upper or lower lip, between the eyebrows, sideburns, cheek, front or back of neck, happy trail, areola, ear, nose, hands and fingers, or feet and toes.
*Medium area choices include lower or upper arms, extended bikini, full neck, full face, inner thighs, buttocks, shoulders, ladies chest or abdomen, ladies upper or lower back
*Large area choices include brazilian, upper or lower legs, full arms, men's chest or abdomen, men's upper or lower back.
*X-Large area choices include full legs or full men's back
About Slate Medspa

Slate Medspa specializes in non-invasive, FDA approved body contouring and skin rejuvenation treatments. We offer the latest technology in non-surgical aesthetic enhancements. Our locations provide a zen like setting with each room equipped with an LED Television and access to WiFi to help you look great and feel great. State-of-the-art technology merges with luxury to offer a unique and unforgettable experience.

We offer many bodysculpting solutions, including CoolSculpting®. Unlike diets and exercise, this fat reduction procedure destroys your fat cells, resulting in permanent fat cell removal. It's the ideal method for reducing fat in stubborn areas. Add in Tempsure® Firm for Skin Tightening and EmTone® for Cellulite Reduction, and you've got the most comprehensive non-invasive bodysculpting program available.

Slate can also help you fight signs of aging and achieve confidence in your skin. BOTOX injections target wrinkles and frown lines and JUVÉDERM, RESTYLANE, RHA, REVANESSE, SCULPTRA & RADIESSE add volume to the skin in order to help you regain that youthful appearance and state of mind.

Rounding out our list of aesthetic services, we offer a myriad of Face & Beauty Services, including Laser Hair Removal, RF Microneedling, Laser Photofacial, Carbon Laser Facial, HydraFacial®, Fractional Laser Resurfacing, Vi Peel®, Microneedling, Scar & Acne Treatment, Infrared Sauna Pod Therapy, Plasma Facials & Hair Thinning Treatment.

Our mission at Slate Medspa is to provide the latest, most effective non-invasive procedures available, so you don't have to worry about complications or downtime.

- Diana Portilla, M.D.

Company Website