---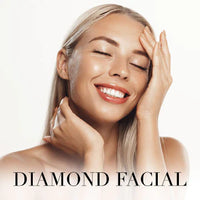 Sale
SIGNATURE DIAMOND FACIAL – $220
Exfoliate, extract, and hydrate the skin through our super serums filled with antioxidants, peptides, and hyaluronic acid. Our treatment concludes with a Free Customized Jellymask® and Celluma® LED Light Treatment to further improve skin health.
DELUXE DIAMOND FACIAL – $295

This invigorating treatment includes all of the Signature Diamond Facial while addressing specific skin concerns with a booster of your choice. Our treatment concludes with a Free Customized Jellymask® and Celluma® LED Light Treatment to further improve skin health.
PLATINUM DIAMOND FACIAL – $325

The ultimate Diamond Facial Experience begins with a detoxifying Lymphatic Drainage. Follow with the Deluxe Diamond Facial and address specific skin concerns with a booster serum. This treatment concludes with a Free Customized Jellymask® and Celluma® LED Light Treatment to further improve skin health.
What is DIAMOND FACIAL?
Introducing the Diamond Facial at Slate Medspa: This innovative facial combines the unparalleled power of hydration from a genuine HydraFacial®, combined with intensive exfoliation using our patented Wet Diamond™ tip to reveal your skin's natural luminosity.
The Diamond Facial is more than just a facial; it's an experience that revitalizes, refines, and revitalizes your complexion by combining two of the most effective medical grade facial technologies in one treatment, with results that leave you feeling renewed, hydrated, and absolutely glowing.
How does DIAMOND FACIAL work?

Our skilled aestheticians use a patented Wet Diamond™ handpiece to gently and effectively remove dead skin cells. Then we continue with a genuine Hydrafacial® treatment to unclog pores, and stimulate collagen production, while simultaneously delivering a nourishing blend of serums deep into your skin, quenching its thirst for moisture, and leaving it radiant and refreshed.
Benefits of a Diamond Facial:
Patented Wet Diamond™ Exfoliation
Non-invasive and non-irritating. Painless, soothing treatment.
Safe for all skin types
Deep cleanses, exfoliates, extracts, hydrates, and oxygenates
Natural Hydration with moisturizing serum infusion
Improves circulation and blood flow
Vibrant visible results even after first session – Gives your skin a healthy glow
No downtime. Immediate return to normal activities.
HAVE A SPECIFIC SKIN CONCERN?
Our Diamond Facial Serums are meticulously crafted to address individual skin issues, allowing for a highly personalized treatment experience. All our serums are free from sulfates, sulfites, parabens, and fragrances, prioritizing the health and purity of your skincare routine.
TNS Growth Factor Serum

 

by SkinMedica
Boosts new collagen and elastin production to diminish the appearance of fine lines and wrinkles and improve skin tone and texture.
Clarifying Booster Serum

 

by Murad
Salicylic Acid & Green Tea cleanses, dissolves excess oil, and purifies pores. Treats acne and prevents future breakouts
TriHex-Pro Serum

 

by Alastin Skincare
Clinically proven to help clear out damage and debris and jump start the skin's natural ability to produce new healthy collagen and elastin.
Brightalive Serum

 

by ZO Skin Health
Our unique blend of skin brighteners minimize the appearance of discoloration and brightens skin tone for an instantly gratifying glow.
Rozatrol Serum

 

by ZO Skin Health
This exclusive antioxidant/anti-inflammatory complex helps minimize redness and inflammation. Ideal for red, sensitized skin but can be used on all skin types.
ProTec Plus

 

by Circadia Skincare
6 different forms of hyaluronic acid, peptides, antioxidants & botanicals increases hydration by 30%. Instantly plumps fine lines and wrinkles.
Add-on Therapies:

Celluma LED Therapy
High intensity light emitting diodes (LEDs) can increase circulation, accelerate tissue repair, kill acne bacteria, decrease inflammation, improve skin tone, texture and clarity.
Lymphatic Therapy
Optimize skin health by encouraging detoxification through mechanical lymphatic therapy. Helps remove unwanted build-up and decrease inflammation.
Tesla High Frequency
Tesla High Frequency uses a thermal current to produce an anti-bacterial effect, pushing away toxins and prompting cellular renewal to treat stubborn acne, enlarged pores, fine lines and puffy eyes
Extended Extractions
Some clients require extra time spent on extractions.  A preliminary consult with our skin therapists will provide the appropriate recommendation for your specific skin needs.
Dermaplaning
Dermaplaning is a long trusted method of shedding top layers of dead skin. Using a surgical scalpel, we gently scrape off dead skin cells on the surface of your skin as well as the peach fuzz on your face.  This preps the skin for better product penetration and more efficient facial results.
What to expect from your Diamond Facial Treatment
Diamond Facial delivers instant and long-lasting results that you can see and feel. With ongoing treatments, you'll notice intensely improved hydration, minimized dark spots and dramatically reduced appearance of fine lines and wrinkles.
The Wet Diamond™ process will cleanse and exfoliate your skin, removing dead and dry skin cells and clearing congestion like blackheads and clogged pores. The hydra-infusion process, bathes your skin in essential vitamins and minerals simultaneously encouraging the production of healthy new collagen. Collagen is a key ingredient to youthful and radiant skin.
Many clients report seeing visible skin refinement and an even, radiant skin tone after just one treatment. The smooth results and hydration may last 5 to 7 days or even longer. We don't believe in quick fixes, so one treatment per month is recommended for improving the appearance of fine lines, wrinkles, brown spots, oily and congested skin. Continued Diamond Facial treatments are highly recommended to maintain skin health results.
The Diamond Facial treatment is designed for all skin types. Most clients with the exception of those with extra sensitive skin easily tolerates the Diamond Facial treatment. After a skin evaluation, our skincare specialist may choose specific treatment serums to customize the treatment for your unique skin conditions and needs.
Diamond Facial Aftercare
This is a no downtime procedure. We recommend you allow the serums and hydrators used in the final stages to stay on your skin for the rest of the day. Though we recommend to wait 4 hours before applying, you may put on makeup right after treatment. You can also return to your normal activities immediately. A comprehensive home skin care regimen will be recommended by our skin therapists for proper maintenance after your Diamond Facial.
OUR IN OFFICE TREATMENTS SHOULD ALWAYS BE COMPLIMENTED BY A CUSTOM HOMECARE REGIMEN. YOU MUST DO YOUR PART AND KEEP UP WITH YOUR RECOMMENDED SKIN CARE PLAN.
Slate Medspa offers the most advanced pharmaceutical skin care products to provide a comprehensive results-oriented program.
Call us to schedule your appointment 877.588.4646

The Fine Print
No cash value or cash back. Non-candidates and other refund requests will be honored before service provided. Valid only for option purchased. 24-hour cancellation notice required for appointments; late cancellations and no-shows will be charged a $50 rebooking fee. There are risks and possible complications for every treatment procedure. Every individual is unique. Results may vary. Although the vast majority of patients achieve desired results, there is no guarantee of results for any treatment. Offer is not eligible for other promo codes or other discounts.

About Slate Medspa | Paramus, NJ | Wayne, NJ

Slate Medspa specializes in non-invasive, FDA approved body contouring and skin rejuvenation treatments. We offer the latest technology in non-surgical aesthetic enhancements. Our locations provide a zen like setting with each room equipped with an LED Television and access to WiFi to help you look great and feel great. State-of-the-art technology merges with luxury to offer a unique and unforgettable experience.

We offer many bodysculpting solutions, including CoolSculpting®. Unlike diets and exercise, this fat reduction procedure destroys your fat cells, resulting in permanent fat cell removal. It's the ideal method for reducing fat in stubborn areas. Add in Tempsure® Firm for Skin Tightening and EmTone® for Cellulite Reduction, and you've got the most comprehensive non-invasive bodysculpting program available.

Slate can also help you fight signs of aging and achieve confidence in your skin. BOTOX injections target wrinkles and frown lines and JUVÉDERM, RESTYLANE, RHA, RAVENESSE, SCULPTRA & RADIESSE add volume to the skin in order to help you regain that youthful appearance and state of mind.

Rounding out our list of aesthetic services, we offer a myriad of Face & Beauty Services, including Laser Hair Removal, RF Microneedling, Laser Photofacial, HydraFacial®, Fractional Laser Resurfacing, Vi Peel®, Microneedling, Scar & Acne Treatment, Infrared Sauna Pod Therapy, Plasma Facials & Hair Thinning Treatment.

Our mission at Slate Medspa is to provide the latest, most effective non-invasive procedures available, so you don't have to worry about complications or downtime.

- Diana Portilla, M.D.

Company Website