---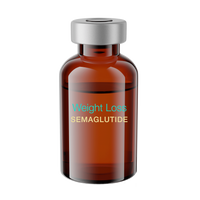 Sale
*MUST BE FIRST MONTH OF SEMAGLUTIDE WITH SLATE MEDSPA. ONE PURCHASE AT PROMO PRICE PER CUSTOMER. CANNOT HAVE USED SEMAGLUTIDE IN PAST 60 DAYS.
What You'll Get
1 Month of Semaglutide Injections (4 Injections)*
During a pre-treatment consultation, we will discuss your goals and treatment options. If it is determined that the treatment isn't appropriate for you, your purchase may be refunded.
Call us to schedule your appointment 877.588.4646
Safe & sustainable weight loss based on science. Shed up to 20% of your body weight.
WHAT ARE SEMAGLUTIDE INJECTIONS?

Semaglutide injection is a medication used for weight loss, to treat type 2 diabetes and to reduce the risk of major adverse cardiovascular events.  Semaglutide works by mimicking the action of GLP-1, a hormone that is naturally produced in the body and helps to regulate blood sugar levels, reduce hunger and cravings, and increase energy expenditure.
Administered as a once-weekly injection, semaglutide is recommended to be used in conjunction with a balanced diet and exercise. Semaglutide can result in considerable weight reduction, with individuals experiencing an average loss of 10-20% of their total body weight.
HOW DOES SEMAGLUTIDE WORK?

Semaglutide is distinct from previous classes of prescription weight loss drugs such as phentermine, as they target essential metabolic pathways. By optimizing 3 FUNCTIONS, Semaglutide ensures that it is not a temporary solution; rather, it promotes safe, sustainable weight loss.
REGULATE DIGESTION
By regulating the absorption of sugar in the intestine, Semaglutide slows the pace at which food travels from the stomach to the intestines, which promotes the feeling of fullness. Food is broken down more completely and your body absorbs fewer calories.
INCREASE METABOLIC FUNCTION
Semaglutide maintains optimal blood sugar levels by boosting insulin and minimizing glucagon whenever glucose levels rise. Semaglutide also enhances overall metabolic rate by enhancing the muscle cells' sensitivity to insulin, increasing energy expenditure and burning more calories even when you're at rest.
RESET YOUR WEIGHT
Semaglutide helps to modify your body's set point (the weight your body is accustomed to maintain) by affecting certain regions of the brain. It effectively suppresses cravings, induces a faster feeling of fullness, and enhances energy expenditure.
HOW IS SLATE MEDSPA DIFFERENT THAN OTHER WEIGHT LOSS PROGRAMS?

Slate Medspa provides a Medical weight loss program supervised by medical professionals. We utilize a holistic approach to weight loss and maintenance which includes a proper diet, regular exercise, and behavioral modification. You'll learn to make gradual lifestyle changes and we will administer a custom prescription medication regimen clinically appropriate for you based on your lab results, health history and goals.
The Fine Print
No cash value or cash back. Non-candidates and other refund requests will be honored before service provided.  Valid only for option purchased. 24-hour cancellation notice required for appointments; late cancellations and no-shows will be charged a $50 rebooking fee. There are risks and possible complications for every treatment procedure. Every individual is unique. Results may vary. Although the vast majority of patients achieve desired results, there is no guarantee of results for any treatment. Offer is not eligible for other promo codes or other discounts.

About Slate Medspa

Slate Medspa specializes in non-invasive, FDA approved body contouring and skin rejuvenation treatments. We offer the latest technology in non-surgical aesthetic enhancements. Our locations provide a zen like setting with each room equipped with an LED Television and access to WiFi to help you look great and feel great. State-of-the-art technology merges with luxury to offer a unique and unforgettable experience.

We offer many bodysculpting solutions, including CoolSculpting®. Unlike diets and exercise, this fat reduction procedure destroys your fat cells, resulting in permanent fat cell removal. It's the ideal method for reducing fat in stubborn areas. Add in Tempsure® Firm for Skin Tightening and EmTone® for Cellulite Reduction, and you've got the most comprehensive non-invasive bodysculpting program available.

Slate can also help you fight signs of aging and achieve confidence in your skin. BOTOX injections target wrinkles and frown lines and JUVÉDERM, RESTYLANE, RHA, RAVENESSE, SCULPTRA & RADIESSE add volume to the skin in order to help you regain that youthful appearance and state of mind.

Rounding out our list of aesthetic services, we offer a myriad of Face & Beauty Services, including Laser Hair Removal, RF Microneedling, Laser Photofacial, HydraFacial®, Fractional Laser Resurfacing, Vi Peel®, Microneedling, Scar & Acne Treatment, Infrared Sauna Pod Therapy, Plasma Facials & Hair Thinning Treatment.

Our mission at Slate Medspa is to provide the latest, most effective non-invasive procedures available, so you don't have to worry about complications or downtime.



- Diana Portilla, M.D.

Company Website