---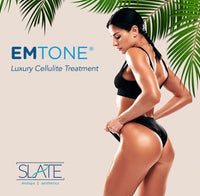 What You'll Get:
1 Emtone Treatment on any large area
WHAT IS EMTONE?
EMTONE® is the world's first and only device that simultaneously delivers both thermal and mechanical energy to treat ALL of the major contributing factors of cellulite.
Cellulite doesn't discriminate as it affects 90% of all women. If you want to do something about it, know there is more than one factor to target to solve the problem. Cumulative sun damage, excess body fat, skin laxity, loss off elasticity in fibrous bands, and thickness of the skin all play a role. It's Time To Reveal Your Smoothness! Learn more about this revolutionary treatment and discover if the EMTONE Luxury Cellulite treatment is right for you by scheduling a complimentary consultation with Slate Medspa, the premier EMTONE New Jersey provider. Contact us online or by calling 877-309-5618 today.
How Does EMTONE Work?
Cellulite is a multi-factorial problem. Women have fibrous bands that run from skin to muscle through the fat. When the bands pull downward on the skin, the fat pushes upward, causing Cellulite dimples. EMTONE restores elasticity in those fibrous bands and in your dermis, reducing that dimpling in your skin.
EMTONE is the only device in the world that addresses ALL 5 FACTORS that contribute to the formation of Cellulite.
Only EMTONE simultaneously emits both radiofrequency and targeted pressure energy. Combined there is a synergistic effect that neither technology can achieve on its own. The result? Faster, more effective treatments than any other stand alone cellulite device. EMTONE really works.
Why Treat Cellulite With EMTONE® at Slate Medspa?
• FDA Cleared
• No Surgery, No Downtime
• Effective for All Body Types
• 90% Patient Satisfaction Rate
• Slate Medspa is the #1 Body Contouring Provider in New Jersey
• Over 5000 body contouring treatments performed and counting
The Fine Print
No cash value or cash back. Non-candidates and other refund requests will be honored before service provided.  Valid only for option purchased. 24-hour cancellation notice required for appointments; late cancellations and no-shows will be charged a $50 rebooking fee. There are risks and possible complications for every treatment procedure. Every individual is unique. Results may vary. Although the vast majority of patients achieve desired results, there is no guarantee of results for any treatment. Offer is not eligible for other promo codes or other discounts.

About Slate Medspa

Slate Medspa specializes in non-invasive, FDA approved body contouring and skin rejuvenation treatments. We offer the latest technology in non-surgical aesthetic enhancements. Our locations provide a zen like setting with each room equipped with an LED Television and access to WiFi to help you look great and feel great. State-of-the-art technology merges with luxury to offer a unique and unforgettable experience.

We offer many bodysculpting solutions, including CoolSculpting®. Unlike diets and exercise, this fat reduction procedure destroys your fat cells, resulting in permanent fat cell removal. It's the ideal method for reducing fat in stubborn areas. Add in Tempsure® Firm for Skin Tightening and EmTone® for Cellulite Reduction, and you've got the most comprehensive non-invasive bodysculpting program available.

Slate can also help you fight signs of aging and achieve confidence in your skin. BOTOX injections target wrinkles and frown lines and JUVÉDERM, RESTYLANE, RHA, RAVENESSE, SCULPTRA & RADIESSE add volume to the skin in order to help you regain that youthful appearance and state of mind.

Rounding out our list of aesthetic services, we offer a myriad of Face & Beauty Services, including Laser Hair Removal, RF Microneedling, Laser Photofacial, HydraFacial®, Fractional Laser Resurfacing, Vi Peel®, Microneedling, Scar & Acne Treatment, Infrared Sauna Pod Therapy, Plasma Facials & Hair Thinning Treatment.

Our mission at Slate Medspa is to provide the latest, most effective non-invasive procedures available, so you don't have to worry about complications or downtime.



- Diana Portilla, M.D.

Company Website