---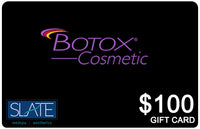 **LIMIT ONE PER CLIENT AT SPECIAL PROMO PRICING**
What You'll Get
$100 Gift Card redeemable towards payment for Botox Injection Services at Slate Medspa.
Use as cash payment. May be used with special offers and discounts. No cash refunds or redemption. Gift cards are delivered by email and contain instructions to redeem them. Physical card can be picked up at our location. Our gift cards have no additional processing fees.
Call us to schedule your appointment 877.588.4646

What is BOTOX® Cosmetic?
BOTOX® Cosmetic is the most recognized minimally invasive aesthetic treatment in the world. Approved for use in 98 countries, BOTOX® has become the #1 selling treatment of its kind. The difference for many is subtle yet impactful. BOTOX® Cosmetic is the only FDA approved treatment for moderate to severe frown lines between the eyebrows, forehead lines and crow's feet lines in adults.

 
ASK FOR BOTOX® BY NAME
Only BOTOX® Cosmetic has been evaluated and approved by the FDA to help make moderate to severe frown lines, crow's feet and forehead lines look better in adults. Be wary of discount products or "cheap" BOTOX® Cosmetic. Make sure you receive authentic BOTOX® Cosmetic –by taking a few simple steps.
Ask to see the vial of BOTOX® Cosmetic that the specialist will use during your treatment. The vial will have the BOTOX® Cosmetic logo and also have a holographic image that says Allergan. If the vial has another logo or marking, then it is not BOTOX® Cosmetic.
See a reputable medical provider like Nu Image Medspa who purchases BOTOX® Cosmetic directly from Allergan. To locate a medical provider who purchases BOTOX® Cosmetic from Allergan, use the Find a Specialist tool on the

 

Botox Website. 
How does BOTOX® work?
BOTOX® Cosmetic targets one of the underlying causes of frown lines, forehead lines and crow's feet—the repeated muscle contractions from frowning, laughing, concentrating and squinting over the years. Your BOTOX specialist will inject these muscles with BOTOX® Cosmetic to temporarily reduce muscle activity. You will begin to notice a visible smoothing of your crow's feet lines and frown lines between your brows.




Benefits of a BOTOX® Cosmetic Treatment
● Smooth moderate to severe forehead lines
● Diminishes fine lines and wrinkles in the "crow's feet" area
● Softens frown lines between the eyebrows
● Long lasting, natural looking results
● Fast & Easy, with no downtime
● Safe for all skin types
Botox may cause serious side effects that can be life threatening, including problems swallowing, speaking, or breathing.
For important safety information about Botox, click 
here.
For important safety information about Xeomin, click
here.
For important safety information about Dysport, click
here.
For important safety information about Jeuveau, click
here.
The Fine Print
No cash value or cash back. Consultation required; non-candidates will be refunded before service provided. Valid only for option purchased. All goods or services must be used by the same person. 24-hour cancellation notice required for appointments; late cancellations and no-shows will be charged a $50 rebooking fee. There are risks and possible complications for every treatment procedure. Every individual is unique. Results may vary. Although the vast majority of patients achieve desired results, there is no guarantee of results for any treatment.
About Slate Medspa

Slate Medspa specializes in non-invasive, FDA approved body contouring and skin rejuvenation treatments. We offer the latest technology in non-surgical aesthetic enhancements. Our locations provide a zen like setting with each room equipped with an LED Television and access to WiFi to help you look great and feel great. State-of-the-art technology merges with luxury to offer a unique and unforgettable experience.

We offer many bodysculpting solutions, including CoolSculpting®. Unlike diets and exercise, this fat reduction procedure destroys your fat cells, resulting in permanent fat cell removal. It's the ideal method for reducing fat in stubborn areas. Add in Tempsure® Firm for Skin Tightening and EmTone® for Cellulite Reduction, and you've got the most comprehensive non-invasive bodysculpting program available.

Slate can also help you fight signs of aging and achieve confidence in your skin. BOTOX injections target wrinkles and frown lines and JUVÉDERM, RESTYLANE, RHA, RAVENESSE, SCULPTRA & RADIESSE add volume to the skin in order to help you regain that youthful appearance and state of mind.

Rounding out our list of aesthetic services, we offer a myriad of Face & Beauty Services, including Laser Hair Removal, RF Microneedling, Laser Photofacial, HydraFacial®, Fractional Laser Resurfacing, Vi Peel®, Microneedling, Scar & Acne Treatment, Infrared Sauna Pod Therapy, Plasma Facials & Hair Thinning Treatment.

Our mission at Slate Medspa is to provide the latest, most effective non-invasive procedures available, so you don't have to worry about complications or downtime.

- Diana Portilla, M.D.

Company Website