---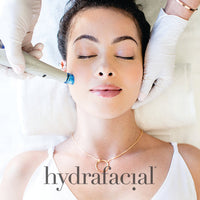 Sale
SIGNATURE HYDRAFACIAL – $220
Deeply cleanse, extract, and hydrate the skin through our super serums filled with antioxidants, peptides, and hyaluronic acid. This treatment concludes with a Free LED Light Treatment to further improve skin health.
DELUXE HYDRAFACIAL – $295
This invigorating treatment includes all of the Signature HydraFacial while addressing specific skin concerns with a booster of your choice. This treatment concludes with a Free LED Light Treatment to further improve skin health.
PLATINUM HYDRAFACIAL – $325
The ultimate HydraFacial Experience begins with a detoxifying Lymphatic Drainage. Follow with the Deluxe HydraFacial and address specific skin concerns with a booster serum. This treatment concludes with a Tesla High Frequency Treatment followed by LED Light Therapy.
HAVE A SPECIFIC SKIN CONCERN? Slate Medspa

 

has you covered:
Tailor your treatment with award-winning our super serums:
JLO Beauty Booster

 

by Hydrafacial

Effects: Nutrient Rich multitasking booster that combines globally sourced ingredients (eastern and western) to help brighten, tighten, and hydrate skin's appearance. An ideal booster for an even, glowing complexion in preparation for a big event
Key Ingredients:
Olive Leaf Extract: Known to help reduce the appearance of aging by nourishing the skin with hydration
Proprietary Hydracomplex: Made of nourishing ingredients (rice bran extract, polyglutamic, and hyaluronic acid) that work together to help improve skin's hydration, suppleness, and plumpness
Fermented Adaptogen Blend: Made with brightening, softening, and firming extracts of snow mushroom, beetroot, and tiger grass to help support and restore skin's dewy-fresh glow
Niacinamide (form of vitamin B3): Known to smooth, moisturize, and deliver protective properties against environmental stressors for healthy, radiant skin

Clarifying Booster Serum

 

by Murad

Effects: Cleanses, dissolves excess oil, and purifies pores. Treats acne and prevents future breakouts
Key Ingredients: Salicylic Acid reduces the severity of acne and Green Tea extract helps soothe irritation

TriHex-Pro Booster Serum by Alastin Skincare

Effects: Clinically proven to help clear out damage and debris in the extracellular matrix and jump start the skin's natural ability to produce new healthy collagen and elastin.
Key Ingredients: TriHex®

 

Technology with active peptides, botanicals and antioxidants, specifically engineered to work with the skin to clear out old collagen and elastin proteins that have been damaged by sun exposure and aging.

Brightalive Booster Serum by ZO Skin Health

Effects: Minimizes the appearance of discoloration and brightens skin tone for an instantly gratifying glow.
Key Ingredients: Skin Brightening Complex (Ogliopeptide-68, Nonapeptide-1, Diglucosyl Gallic Acid, N-Acetyl Glucosamine): Unique blend of skin brighteners to block the production of pigmentation.

Rozatrol Boost by ZO Skin Health

Effects: This exclusive antioxidant/anti-inflammatory complex helps minimize redness and inflammation. Ideal for red, sensitized skin but can be used on all skin types.
Key Ingredients: Lactose, milk protein and Rosa Canina Extract help minimize inflammation and diminish the appearance of skin redness.

ProTec Plus Booster Serum by Circadia Skincare

Effects: Designed to maximize hydration and deliver optimum protection for overall skin health. Instantly plumps fine lines and wrinkles.
Key Ingredients: This super serum delivers peptides, antioxidants, 6 different forms of hyaluronic acid and natural botanicals that increase moisture by 30% within 2 hours.

Regen Growth Factor Boost

 

by Hydrafacial

Effects: Designed to boost new collagen and elastin production to diminish the appearance of fine lines and wrinkles and improve skin tone and texture.
Key Ingredients: Naturally occurring growth factor proteins that regulate cellular growth and play a key role in maintaining healthy skin structure and function.
What is HYDRAFACIAL?
The award-winning HydraFacial merges invigorating spa therapies with advanced medical technology. It delivers long-term skin health and can be tailored to meet the specific needs of all skin types. This unique combination of advanced hydrating techniques produces instant, noticeable results with no downtime or irritation. Only HydraFacial uses patented Vortex-Fusion technology for an instantly gratifying glow.
HydraFacial combines gentle hydro exfoliation with simultaneous topical infusion of custom solutions specific to your skin condition. This treatment works differently from traditional abrasive tip of microdermabrasion. The use of hydro-dermabrasion technology along with a pulsating micro infusion tip ensures a soothing, yet powerful non-irritating treatment.
How does HYDRAFACIAL work?
Through patented Vortex-Fusion technology, skin is gently pulled into the chamber, allowing our solutions to gently cleanse and unclog pores, exfoliate dead skin cells and extract keratin, sebum, blackheads or any other impurities from pores. The unique tip will then drive the solutions deep into the skin, right down to the dermal junction where skin cells are regenerated.
Benefits of an HydraFacial:
● 
Abrasion Free Hydra Peeling
● 

Non-invasive and non-irritating. Painless, soothing treatment.
● 

Safe for all skin types
● 

Deep cleanses, exfoliates, extracts, hydrates, and oxygenates
● 

Gentle liquid exfoliation
● 

Natural Hydration with moisturizing serum infusion
● 

Improves circulation and blood flow
● 

Vibrant visible results even after first session – Gives your skin a healthy glow
● 

No downtime. Immediate return to normal activities.
Call us to schedule your appointment 877.588.4646

The Fine Print
No cash value or cash back. Non-candidates and other refund requests will be honored before service provided. Valid only for option purchased. 24-hour cancellation notice required for appointments; late cancellations and no-shows will be charged a $50 rebooking fee. There are risks and possible complications for every treatment procedure. Every individual is unique. Results may vary. Although the vast majority of patients achieve desired results, there is no guarantee of results for any treatment. Offer is not eligible for other promo codes or other discounts.

About Slate Medspa | Paramus, NJ | Wayne, NJ

Slate Medspa specializes in non-invasive, FDA approved body contouring and skin rejuvenation treatments. We offer the latest technology in non-surgical aesthetic enhancements. Our locations provide a zen like setting with each room equipped with an LED Television and access to WiFi to help you look great and feel great. State-of-the-art technology merges with luxury to offer a unique and unforgettable experience.

We offer many bodysculpting solutions, including CoolSculpting®. Unlike diets and exercise, this fat reduction procedure destroys your fat cells, resulting in permanent fat cell removal. It's the ideal method for reducing fat in stubborn areas. Add in Tempsure® Firm for Skin Tightening and EmTone® for Cellulite Reduction, and you've got the most comprehensive non-invasive bodysculpting program available.

Slate can also help you fight signs of aging and achieve confidence in your skin. BOTOX injections target wrinkles and frown lines and JUVÉDERM, RESTYLANE, RHA, RAVENESSE, SCULPTRA & RADIESSE add volume to the skin in order to help you regain that youthful appearance and state of mind.

Rounding out our list of aesthetic services, we offer a myriad of Face & Beauty Services, including Laser Hair Removal, RF Microneedling, Laser Photofacial, HydraFacial®, Fractional Laser Resurfacing, Vi Peel®, Microneedling, Scar & Acne Treatment, Infrared Sauna Pod Therapy, Plasma Facials & Hair Thinning Treatment.

Our mission at Slate Medspa is to provide the latest, most effective non-invasive procedures available, so you don't have to worry about complications or downtime.

- Diana Portilla, M.D.

Company Website